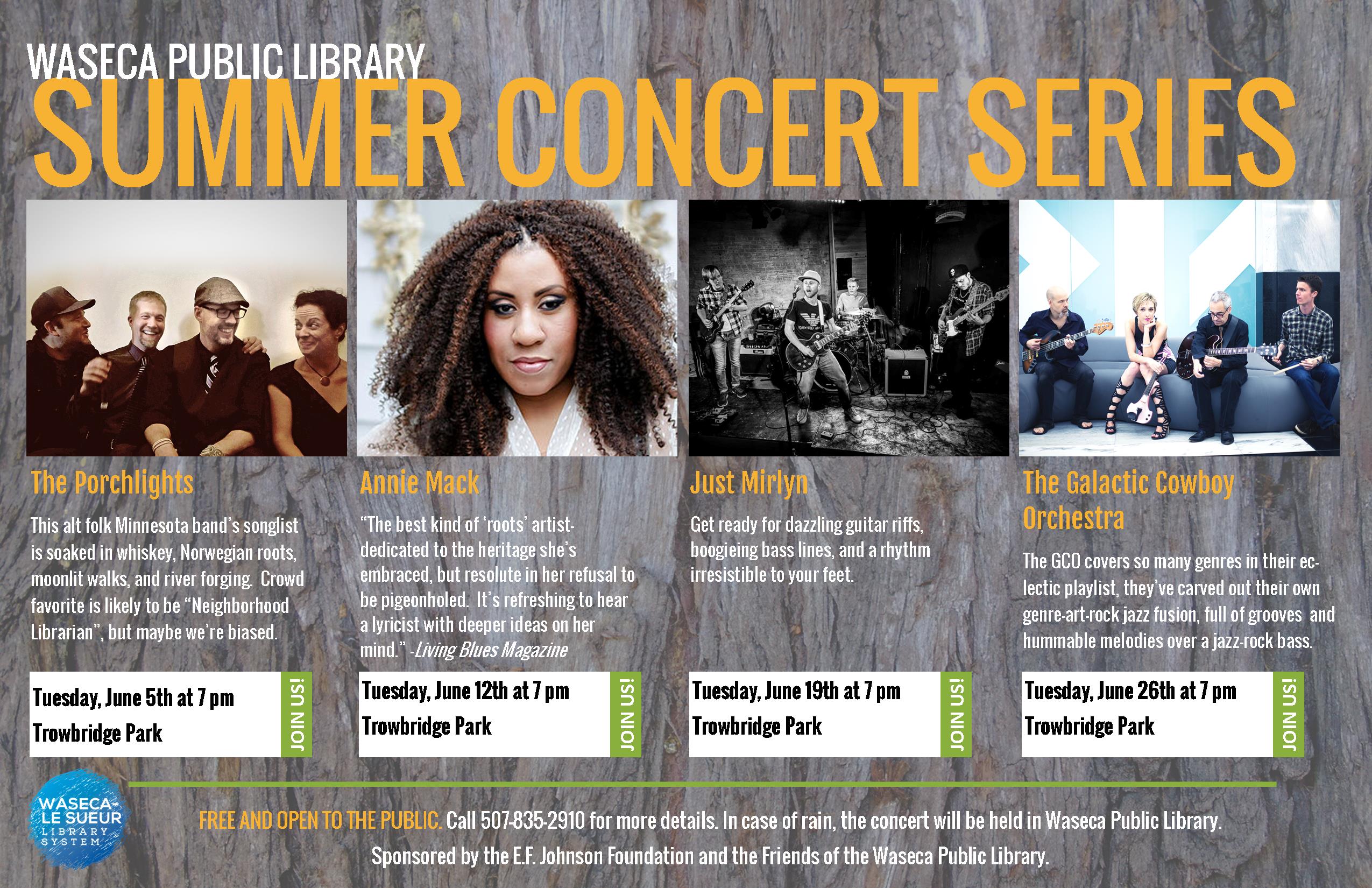 Announcing Waseca Public Library's Summer Concert Series!
Waseca Public Library's third summer concert series will once again take place in Trowbridge Park. This library-sponsored series will bring a variety of music to the community on Tuesday nights at 7 pm in June.
The Porchlights will lead off the series at 7 pm on June 5th. This alt folk Minnesota band's songlist is soaked in whiskey, Norwegian roots, moonlit walks, and river forging. Crowd favorite is likely to be "Neighborhood Librarian", but maybe we're biased.
Annie Tent will perform on June 12th at 7 pm. "The best kind of 'roots' artist—dedicated to the heritage she's embraced, but resolute in her refusal to be pigeonholed. It's refreshing to hear a lyricist with deeper ideas on her mind." —Living Blues Magazine
Get ready for dazzling guitar riffs, boogieing bass lines, and an irresistible rhythm irresistible when Just Mirlyn hits the stage on June 19th at 7 pm.
The 4-piece band The Galactic Cowboy Orchestra will close out the series on June 26th at 7 pm. The GCO covers so many genres in their eclectic playlist, they've carved out their own genre—art-rock jazz fusion, full of grooves and hummable melodies over a jazz-rock bass.
In case of rain, the concert will be held in Waseca Public Library.
Sponsored by the E.F. Johnson Foundation and the Friends of the Waseca Public Library.