About
About
To serve Waseca and Le Sueur counties as a safe center of reliable information, cultural enrichment, and entertainment.
To provide equal access to ideas and knowledge through our collection, services, and programming in order to promote the joy of lifelong learning, spark curiosity, and encourage the love of reading.
To these ends it is the responsibility of the Library System to assemble and administer information, both print and non-print, in organized collections and to promote its use, through guidance and stimulation, for the development of an enlightened citizenship and enriched personal lives.
The Library System's responsibility is more than the collection and organization of materials. The Library System also has the responsibility to make a strong and varied collection of materials accessible to all people of the service area. By continuing cooperative ventures with other libraries and through membership in the Traverse des Sioux Library Cooperative, the Waseca-Le Sueur Regional Library System makes the resources of libraries throughout Minnesota available to its patrons.
Finally, the Library System has the responsibility to offer cultural enrichment and recreation for the residents of Waseca and LeSueur Counties by sponsoring classes, seminars, trips to cultural events, and local presentations by performing artists.
Library Cards
All patrons must be registered and must have a valid library card to borrow library materials. Patrons must fill out an application form to register, signing the form to indicate their agreement to be responsible for all library materials including payment for outstanding materials and fees. Applicants under 18 must have a parent's or guardian's signature.
Replacement library cards cost $1. Reciprocal borrowing arrangements are honored.
Checkout Periods
Books, magazines, audiobooks, video games and nonfiction movies check out for three weeks and can be renewed twice. Only library materials that have not been requested by others can be renewed.
Fiction movies, music, and games check out for seven days and can be renewed once. Only library materials that have not been requested by others can be renewed.
Reference books and equipment are checked out for seven days.
When library materials are one month overdue, patrons will be billed the replacement cost. When a patron is billed a total of $20 and more, a block is placed on the patron's library card. To have a block removed, the patron must return the library materials and/or pay the fines. Blocked patrons are not able to use the Internet. Exceptions to this policy would include computer use for:
Working on student homework
Searching for a job
Applying for unemployment benefits
A maximum of five DVDs can be checked out at one time. A maximum of one video game can be checked out at one time.
Patrons will be billed for lost or damaged library materials.
Renewals
Library materials can be renewed by telephone or on our website.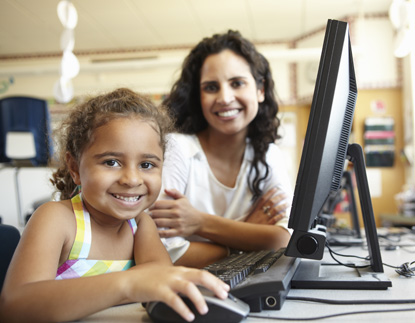 Public Use
All libraries have computers and wireless internet for use by the public.
Programs
Internet, word processing, and spreadsheet programs are available.
Printing
Printing of black and white pages costs 20¢. Color copies cost 50¢. Not all libraries can make color copies.
Internet Protection Act
Libraries comply with the Children's Internet Protection Act.
Internet Safety Policy
All libraries have an Internet Safety Policy which prohibits any illegal activity, inappropriate behavior and damage to computers. The policy is available at all libraries.
Time Limits
In order to make computers available to as many members of the public as possible, libraries enforce time limits and number of sessions per day per individual based on demand.
The Library Board recognizes the varied backgrounds, interests, religions, political views, ethnic groups, and educational levels of members of the community the library serves. The Library System will select, organize, and make accessible a variety of library materials to meet cultural, informational, educational, and recreational needs. Staff builds a patron-centered collection responsive to demographics as well as societal and technological needs.
The Waseca-Le Sueur Regional Library System affirms its belief in the American Library Association's Library Bill of Rights, The Freedom to View Statement, and The Freedom to Read Statement.
The ultimate legal responsibility for selection of all library materials rests with the Library Board. The Board governs the materials selection of the Library System as set forth in this policy. The Library Director is responsible to the Library Board for implementing this policy.
All library materials will be selected under the direction of the professional staff, whose qualifications are based on education, training, and experience in librarianship. The Board supports the judgment of the staff in the selection process.
A primary goal of the library is to meet the recreational and informational needs of its patrons; therefore suggestions from patrons and staff will be given serious consideration for purchase.
Collection development staff rely on a set of criteria to guide selection decisions. All materials will be evaluated according to one or more of the following criteria. Not all criteria will be applied to each selection decision. General criteria for selection:

historical, local, and cultural significance
artistic style
relevance to current trends and events
favorable attention by critics and reviewers
public appeal
accuracy
format
content
price
patron requests
suitability of style and subject for intended audience
relation to existing collection

The library shall not purchase materials for the exclusive use of individuals or special groups.
Withdrawal of Materials and Collection Maintenance 
Staff relies on a set of criteria to guide ongoing collection maintenance decisions. Based on the evaluation, materials may be kept, replaced, repaired, or withdrawn. Not all criteria will be applied to each withdrawal decision.
General criteria for withdrawals:

historical, local, and cultural significance
artistic style
relevance to current trends and events
favorable attention by critics and reviewers
public appeal
accuracy
format
content
price
patron requests
suitability of style and subject for intended audience
relation to existing collection

Withdrawn library materials may be given to other libraries, sold, donated, or discarded.
Administration of Materials and Services

The Library System recognizes that some materials may be controversial. The selection of materials and resources will be based upon the merits of the work as a whole. Only individuals can determine what is appropriate for their needs and can define what material or information is consistent with their personal or family values. Individuals can apply those values to the use of library materials only for themselves. The Library System is not an institution "in loco parentis." Parents and legal guardians have the responsibility for their children's use of library materials.
Materials are selected that reflect the diversity of opinion available in today's society to enable each library user to reach his or her own conclusions. Materials that challenge and stimulate the user as well as those which provide the comfort of the familiar are selected. Controversial items are included in the collection. A decision to select an item is not made on the basis of anticipated approval or disapproval, but on the merits of the work in relation to building the collection and serving the interests of the library's patrons.
Deliberate destruction, mutilation, or refusal to return library materials for any reason is a criminal offense, whether or not monetary restitution is made. Perpetrators of such destruction or mutilation may be prosecuted to the fullest extent of the law.
The Library Board will provide the opportunity to request reconsideration of library materials and services, including, but is not limited to, print, non-print, and electronic materials; displays; social media posts; events; and services. No library material will be removed from the shelf until such request is acted upon and a decision is reached. Justification of library acquisitions is not the responsibility of Library System staff members even though they may be the first point of contact.
The reconsideration process is limited to residents living in the Waseca-Le Sueur Regional Library System service area, regardless of the source of the challenge (i.e., library user, library staff member, library volunteer, board member, community member, elected official, or government employee).
The complainant must complete and sign a "Citizen's Request to the Director for Reconsideration of Library Materials and Services."
The Library Director will acknowledge the complaint in writing to the complainant within ten (10) business days.
The Library Director will submit the completed form to a Review Committee composed of the Director and other qualified staff members appointed at the discretion of the Director. This committee shall reach a decision within 60 days of receipt of the complaint. The reconsideration will be evaluated using the criteria in the selection policy and mission of the library. All reconsideration requests will be reported to the American Library Association's Office for Intellectual Freedom and the Minnesota Library Asssociation's Intellectual Freedom Committee.
If the complainant is not satisfied with the findings of the committee, a written appeal may be submitted within 10 business days to the Library Board.
If the Library Board plans to address the appeal at their board meeting, the individual will be notified of when and where the meeting will be held.
The Library Board reserves the right to limit the length of public comments.
The decision of the Library Board is final.
The Library System will not convene a Materials Review Committee relative to the same complaint for a period of three years.
5. The Library Board realizes that any library that purchases only those materials acceptable to everyone would have very few items. The Board further recognizes the right and privilege of each person to select those materials he or she wishes from the Library collection, and that no one is obliged to read, hear, or view that which one does not like.
The Library Board respects the right of persons to express their opinions, negative as well as positive, with respect to materials purchased by the Library. However, negative attitudes of persons or groups toward any material shall not mean its removal from the library collection.
The Library Board expresses its support of the staff responsible for the selection of library materials, and delegates to such staff the authority to purchase those library materials that are considered essential, useful, and within the scope of the Selection of Library Materials – General Principles Policy.
The purpose of this policy is to make the library a safe and pleasant facility for patrons and staff. Staff will deal with problem behaviors with courtesy, tact, calmness, and, most of all, common sense. Staff must use their best judgment in situations not discussed.
Library branches will be familiar with any behavior policies that their cities may have, especially when they are located in a municipal building.
To ensure a safe, comfortable environment for all people to use the Library, the following behaviors are not acceptable inside the library:
Use of tobacco products
Being under the influence of alcohol or drugs
Engaging in any illegal activity
Disruptive or unsafe behavior such as loud talking, loud audio equipment, running, throwing things, hitting, pushing, shoving, or using a wheeled device not recognized by the American Disabilities Act.
Interfering with the use of the Library by other patrons, or with library staff's duties
Defacing, stealing, or marring library materials, furnishings, walls, machines, or other library property
Bare feet or lack of upper-body covering
Leaving young or vulnerable children unsupervised in the Library. Parents or authorities may be contacted if children under the age of eight (8), or vulnerable children of any age are in the library unsupervised
Animals, except assistance animals, or animals which are part of library-sponsored or municipal-sponsored activities
Threats or harassment of another person, including following a person, threatening, taunting, bullying, or inflicting physical or verbal abuse
Poor personal hygiene that is offensive or constitutes a nuisance to others
Excessive displays of public affection
Soliciting or panhandling
Brandishing of any weapon
The Library Board bans any individual from Waseca-Le Sueur Regional Library System who makes a direct threat to staff or patrons or commits a misdemeanor or felony, while on library premises.