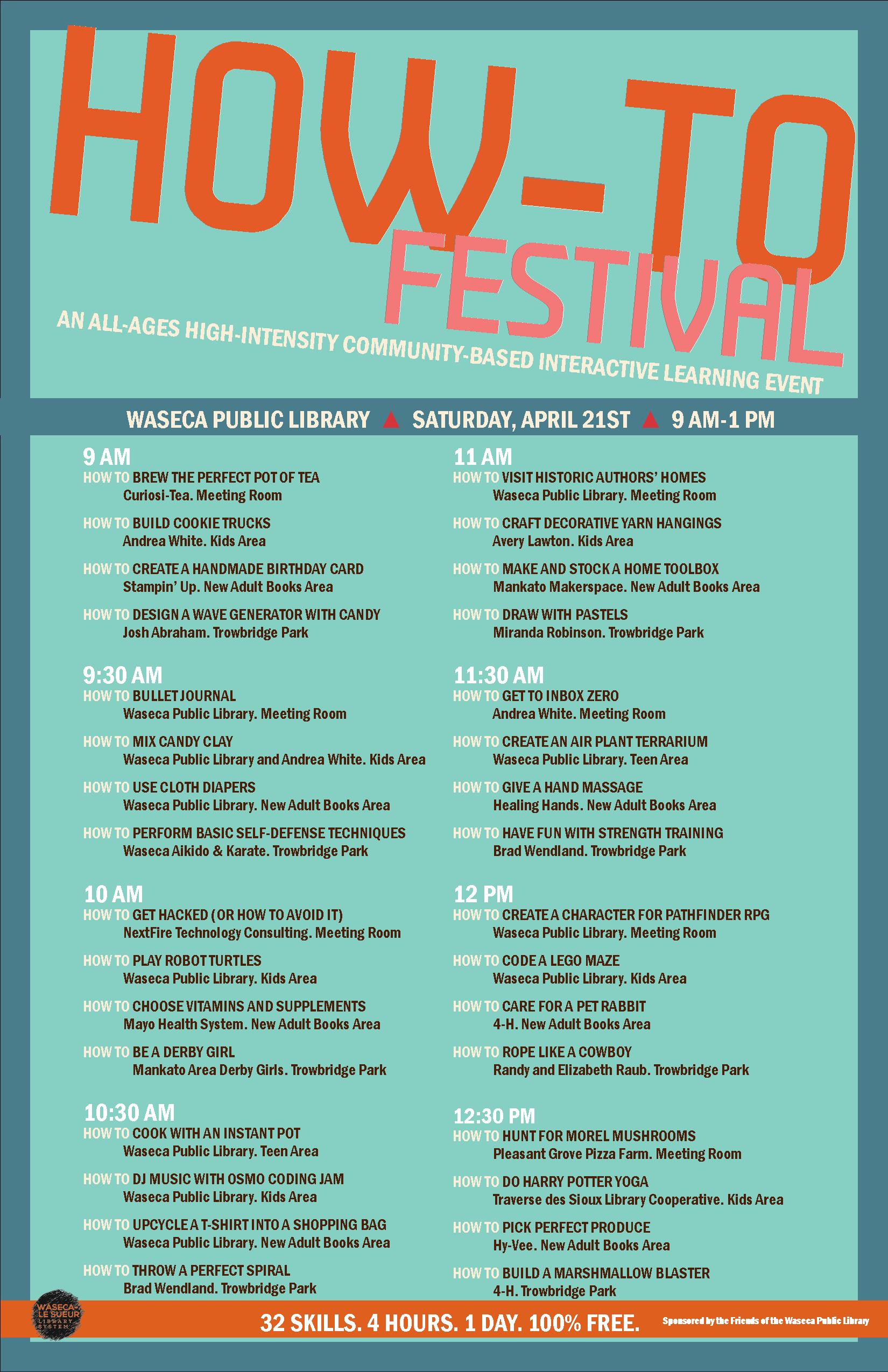 Waseca Public Library How-To Festival
Learn a wide variety of skills at this community-based interactive learning event on Saturday, April 21st from 9 am-1 pm at Waseca Public Library. From using instant pots to hunting for morel mushrooms, from making decorative yarn hanging to building a marshmallow blaster, add a few tricks up your sleeve in these 30-minute sessions.
Sessions are led by local businesses, library staff, and community members. All ages are welcome at this event, which celebrates lifelong learning. Staged at various locations in and outside the library, multiple sessions will take place at the same time.
Free and open to the public. This event is sponsored by the Friends of the Waseca Public Library.
The full schedule:
9 AM
HOW TO BREW THE PERFECT POT OF TEA
Presented by Curiosi-Tea. Meeting Room
HOW TO BUILD COOKIE TRUCKS
Presented by Andrea White. Teen Area
HOW TO CREATE A HANDMADE BIRTHDAY CARD
Presented by Stampin' Up. New Adult Books Area
HOW TO DESIGN A WAVE GENERATOR WITH CANDY
Presented by Josh Abraham. Trowbridge Park
9:30 AM
HOW TO BULLET JOURNAL
Presented by Waseca Public Library. Meeting Room
HOW TO MIX CANDY CLAY
Presented by Waseca Library & Andrea White. Kids Area
HOW TO USE CLOTH DIAPERS
Presented by Waseca Public Library. New Adult Books Area
HOW TO PERFORM BASIC SELF-DEFENSE MOVES
Presented by Waseca Aikido & Karate. Trowbridge Park
10 AM
HOW TO GET HACKED (OR HOW TO AVOID IT)
Presented by NextFire Technology Consulting. Meeting Room
HOW TO PLAY ROBOT TURTLES
Presented by Waseca Public Library. Kids Area
HOW TO CHOOSE VITAMINS AND SUPPLEMENTS
Presented by Mayo Health System. New Adult Books Area
HOW TO BE A DERBY GIRL
Presented by Mankato Area Derby Girls. Trowbridge Park
10:30 AM
HOW TO COOK WITH AN INSTANT POT
Presented by Waseca Public Library. Teen Area
HOW TO DJ MUSIC WITH OSMO CODING JAM
Presented by Waseca Public Library. Kids Area
HOW TO UPCYCLE A T-SHIRT INTO A SHOPPING BAG
Presented by Waseca Public Library. New Adult Books Area
HOW TO THROW A PERFECT SPIRAL
Presented by Brad Wendland. Trowbridge Park
11 AM
HOW TO VISIT HISTORIC AUTHORS' HOMES
Presented by Waseca Public Library. Meeting Room
HOW TO CRAFT DECORATIVE YARN HANGINGS
Presented by Avery Lawton. Kids Area
HOW TO MAKE AND STOCK A HOME TOOLBOX
Presented by Mankato Makerspace. New Adult Books Area
HOW TO DRAW WITH PASTELS
Presented by Miranda Robinson. Trowbridge Park
11:30 AM
HOW TO GET TO INBOX ZERO
Presented by Andrea White. Meeting Room
HOW TO CREATE AN AIR PLANT TERRARIUM
Presented by Waseca Public Library. Teen Area
HOW TO GIVE A HAND MASSAGE
Presented by Healing Hands. New Adult Books Area
HOW TO HAVE FUN WITH STRENGTH TRAINING
Presented by Brad Wendland. Trowbridge Park
12 PM
HOW TO CREATE A CHARACTER FOR THE PATHFINDER ROLEPLAYING GAME
Presented by Waseca Public Library. Meeting Room
HOW TO CODE A LEGO MAZE
Presented by Waseca Public Library. Kids Area
HOW TO CARE FOR A PET RABBIT
Presented by 4-H. New Adult Books Area
HOW TO ROPE LIKE A COWBOY
Presented by Randy and Elizabeth Raub. Trowbridge Park
12:30 PM
HOW TO HUNT FOR MOREL MUSHROOMS
Presented by Pleasant Grove Pizza Farm. Meeting Room
HOW TO DO HARRY POTTER YOGA
Presented by Traverse des Sioux Library Cooperative. Kids Area
HOW TO PICK PERFECT PRODUCE
Presented by Hy-Vee. New Adult Books Area
HOW TO BUILD A MARSHMALLOW BLASTER
Presented by 4-H. Trowbridge Park