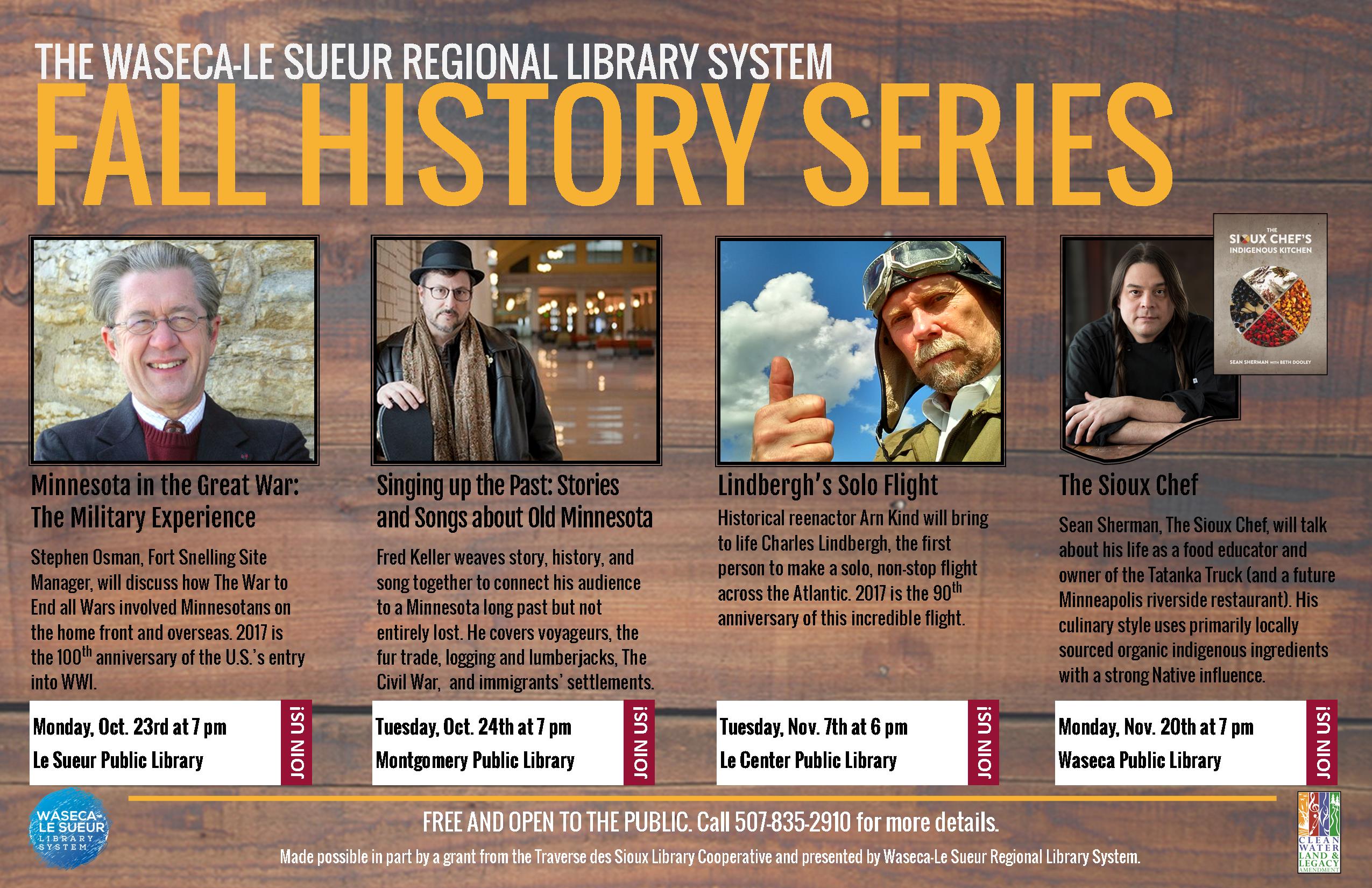 Waseca-Le Sueur Regional Library System Announces Fall History Series
Waseca-Le Sueur Regional Library System is proud to announce their Fall History Series.
Stephen Osman, Fort Snelling Site Manager, will open the series by honoring the 100th anniversary of the U.S.'s entry into WWI. In his talk "Minnesota in the Great War: The Military Experience," Osman will discuss how The War to End All Wars involved Minnesotans on the home front and overseas at Le Sueur Public Library (118 E Ferry St, Le Sueur, MN) on Monday, October 23rd at 7 pm.
At "Singing Up the Past: Stories and Songs about Old Minnesota," Fred Keller weaves story, history, and song together to connect his audience to a Minnesota long past but not entirely lost at Montgomery Public Library (104 Oak Ave SE, Montgomery, MN) on Tuesday, October 24th at 7 pm. He will cover voyageurs, the fur trade, logging and lumberjacks, The Civil War, and immigrants' settlements.
Historical re-enactor and educator Arn Kind will bring to life Charles Lindbergh, the first person to make a solo, non-stop flight across the Atlantic at Le Center Public Library (119 S Broadway, New Richland, MN) on Tuesday, November 7th at 6 pm. 2017 is the 90th anniversary of this incredible flight.
Sean Sherman, The Sioux Chef, will wrap up the series at Waseca Public Library (408 N State St, Waseca, MN) on Monday, November 20th at 7 pm. Sherman will talk about his life as a food educator and owner of the Tatanka Truck (as well as a future Minneapolis riverside restaurant). His culinary style uses primarily locally sourced organic indigenous ingredients with a strong Native influence. Sherman will be signing his new book The Sioux Chef's Indigenous Kitchen at the event.
This series is free and open to the public.
The events are made possible by a grant provided by the Traverse des Sioux Library Cooperative and is funded in part with money from Minnesota's Arts and Cultural Heritage fund.