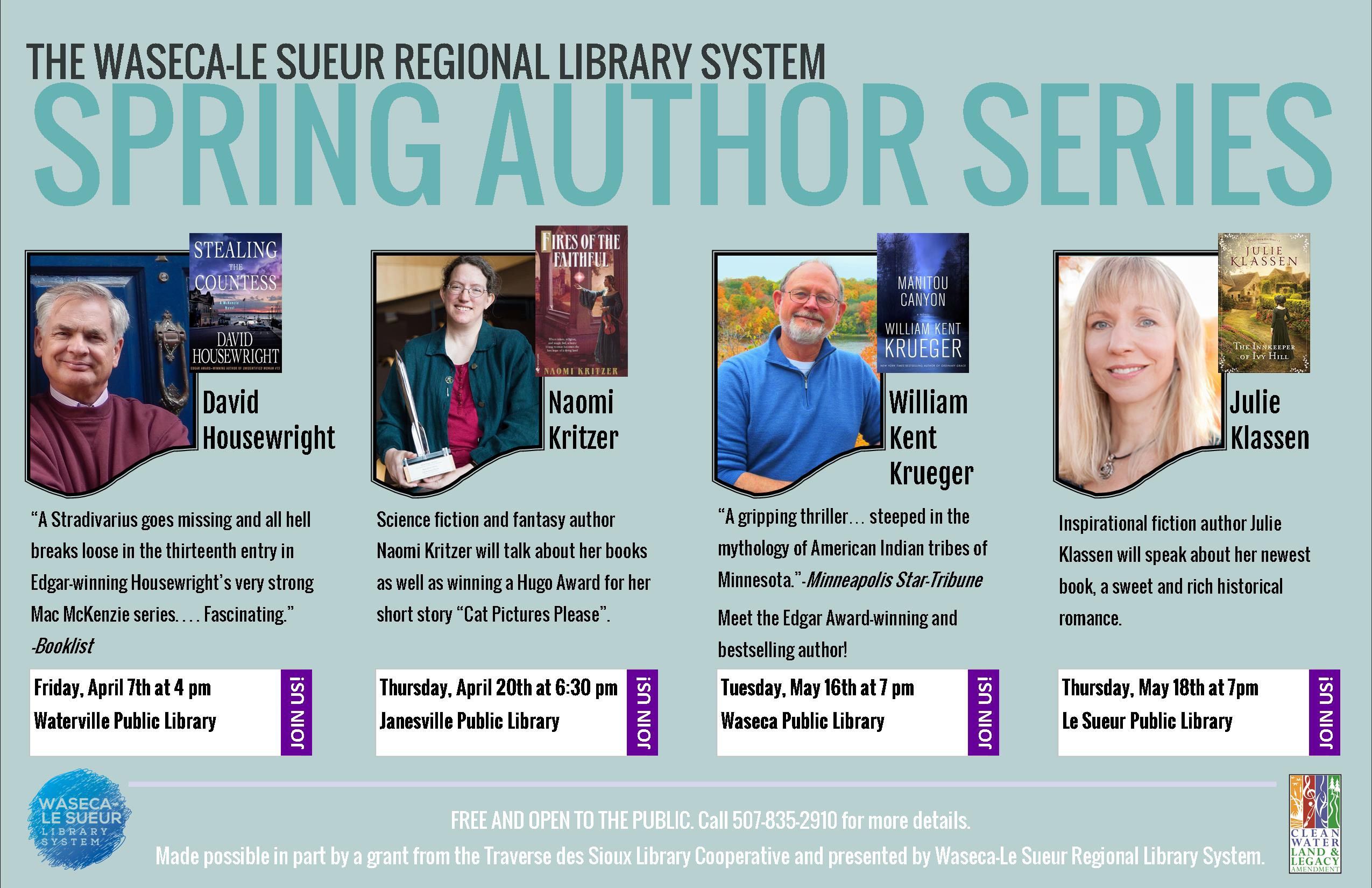 Announcing Our Spring Author Series
Waseca-Le Sueur Regional Library System announces their Spring Author Series.
Author David Housewright will open the series speaking about What the Dead Leave Behind, the newest book in his McKenzie series at Waterville Public Library (210 E Paquin St, Waterville, MN) on Friday, April 7th at 4 pm. "A Stradivarius goes missing and all hell breaks loose in the thirteenth entry in Edgar-winning Housewright's very strong Mac McKenzie series. . . . Fascinating." —Booklist
Science fiction and fantasy author Naomi Kritzer will speak at Janesville Public Library (102 W Second, Janesville, MN) on Thursday, April 20th at 6:30 pm. Kritzer will talk about her books as well as winning a Hugo Award for her short story "Cat Pictures Please".
Meet the Edgar Award-winning and bestselling author William Kent Krueger at Waseca Public Library (408 N State St, Waseca, MN) on Tuesday, May 16th at 7 pm about his novels, including his latest book Manitou Canyon. The Minneapolis Star-Tribune called the book, "A gripping thriller . . . steeped in the mythology of American Indian tribes of Minnesota."
Wrapping up the series will be inspirational fiction author Julie Klassen, who will speak at Le Sueur Public Library (118 E Ferry St, Le Sueur, MN) on Thursday, May 18th at 7 pm. The Innkeeper of Ivy Hill is the first book in her historical romance series Tales from Ivy Hill.
This series is free and open to the public. Authors will be signing books at the events.
This series is made possible by grants provided by the Traverse des Sioux Library Cooperative and is funded in part with money from Minnesota's Arts and Cultural Heritage fund.