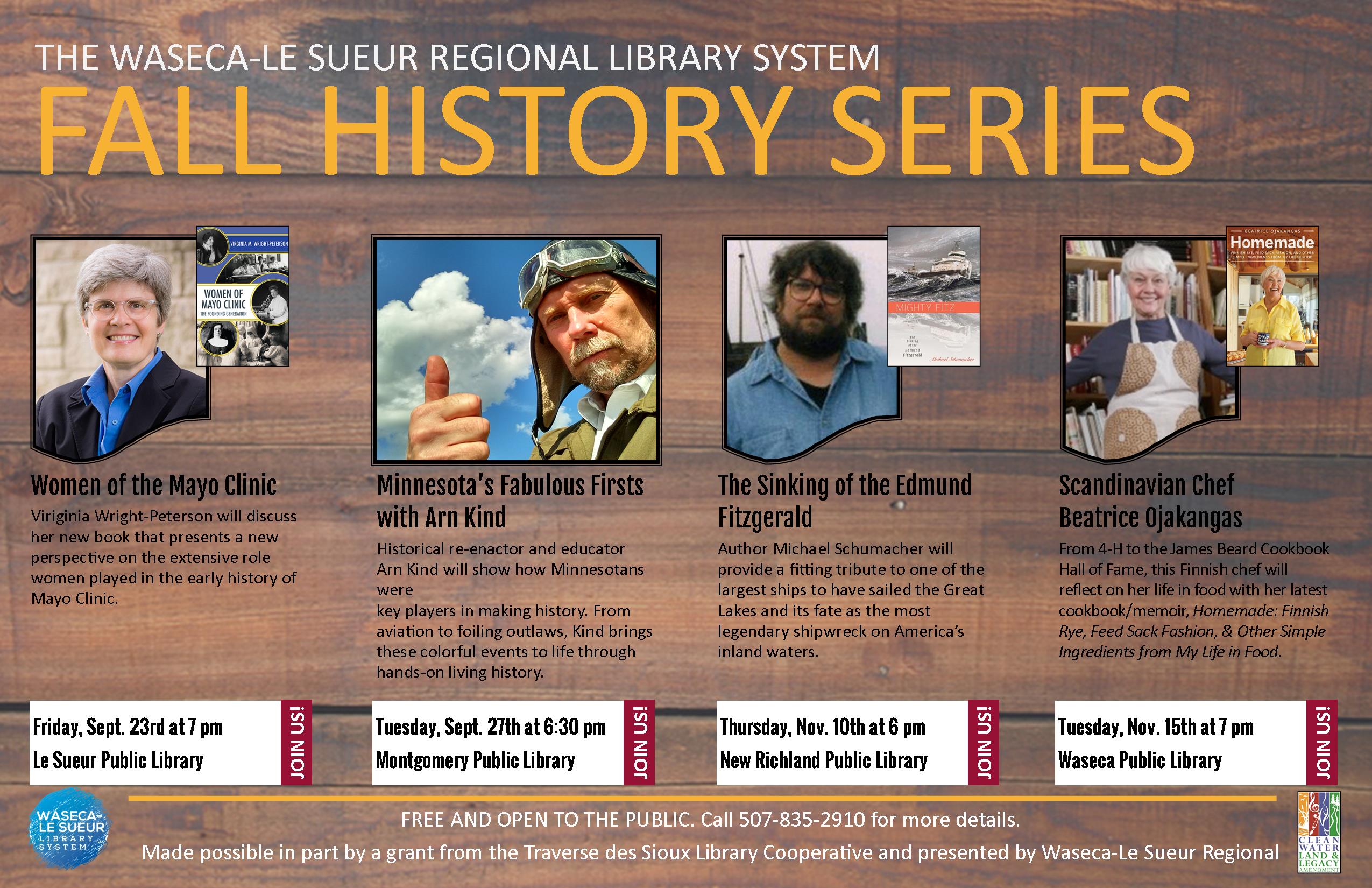 Announcing Our Fall History Series
Waseca-Le Sueur Regional Library System announces our Fall History Series.
Virginia Wright-Peterson will open the series by discussing her new book Women of the Mayo Clinic: The Founding Generation at Le Sueur Public Library (118 E Ferry St, Le Sueur, MN) on Friday, September 23rd at 7 pm. Wright-Peterson presents a new perspective on the early history of Mayo Clinic by focusing on the women who helped established the clinic's reputation and whose roles varied from surgical assistant and physician to clinic librarian and artist, and more.
Historical re-enactor and educator Arn Kind will show how Minnesotans were key players in making history. The event will be held at Montgomery Public Library (104 Oak Ave SE, Montgomery, MN) on Tuesday, September 27th at 6:30 pm. Kind brings these colorful events to life through hands-on living history, incorporating costumes, maps, clothing, and artifacts with memorable and fascinating details.
Author Michael Schumacher will speak about his book The Mighty Fitz: The Sinking of the Edmund Fitzgerald on the 41th anniversary of the shipwreck at New Richland Public Library (119 S Broadway, New Richland, MN) on Thursday, November 10th at 6 pm. Schumacher will provide a fitting tribute to one of the largest ships to have sailed the Great Lakes and its fate as the most legendary shipwreck on America's inland waters. Peter Klug will sing Gordon Lightfoot's "The Wreck of the Edmund Fitzgerald" at the event.
Chef Beatrice Ojakangas will wrap up the series at Waseca Public Library (408 N State St, Waseca, MN) on Tuesday, November 15th at 7 pm. From 4-H to the James Beard Cookbook Hall of Fame, from researching traditional Scandinavian recipes to creating egg roll recipes for Chun King, this Finnish chef will reflect on her life in food as she shares her latest cookbook/memoir, Homemade: Finnish Rye, Feed Sack Fashion, & Other Simple Ingredients from My Life in Food.

This series is free and open to the public. Authors will be signing books at the events.
This series is made possible by a grant provided by the Traverse des Sioux Library Cooperative and is funded in part with money from Minnesota's Arts and Cultural Heritage fund.