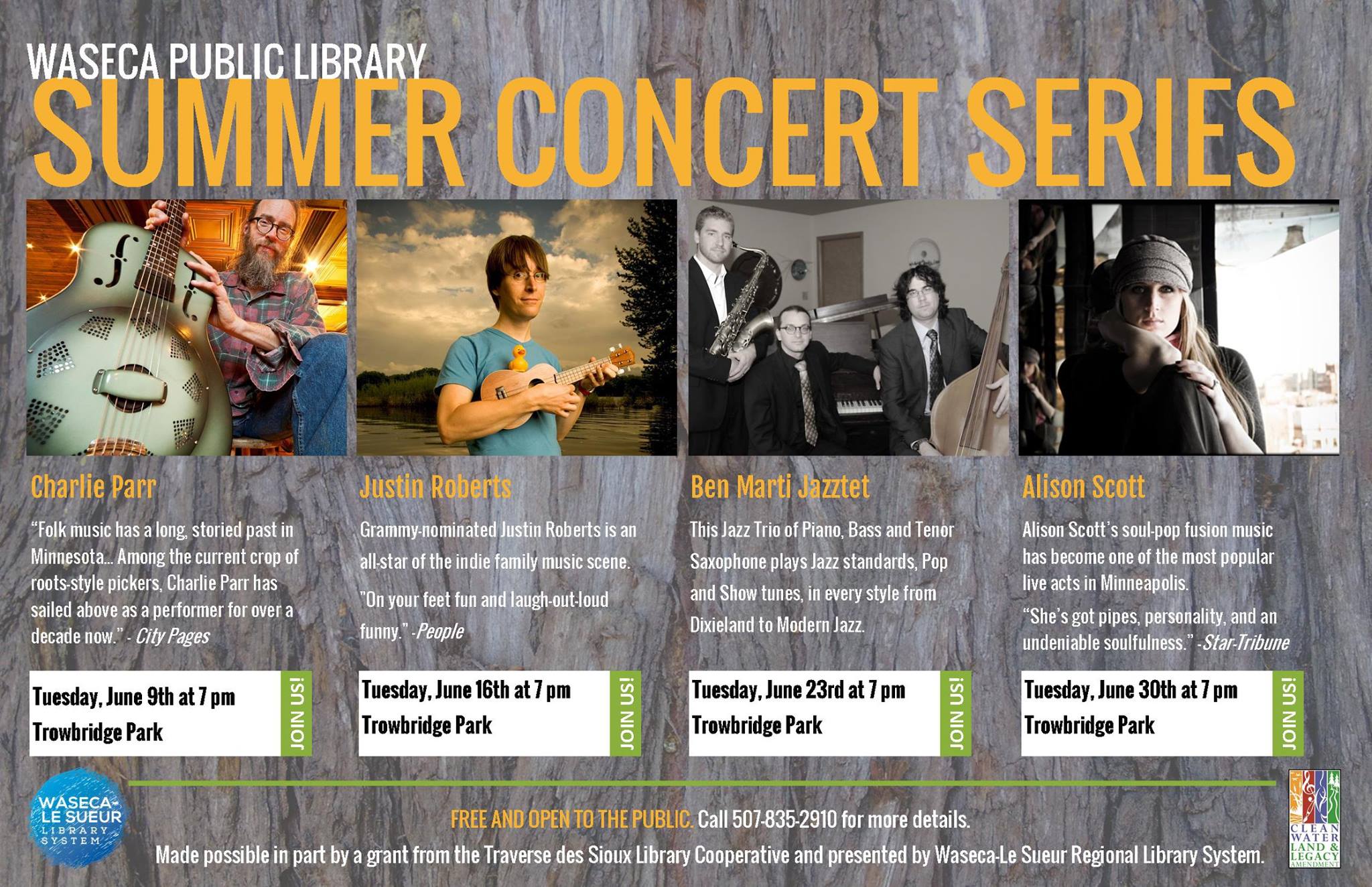 Announcing Waseca Public Library's summer concert series!
Waseca Public Library's summer concert series will take place in the newly renovated bandstand in Trowbridge Park, which is celebrating its centennial in 2015 and stands at the edge of the Waseca Public Library's parking lot. This library-sponsored series will bring a variety of music to the community on Tuesday nights in June, starting on June 9th.
Charlie Parr
will lead off the series at 7 pm on June 9th. Parr plays heartfelt and plaintive original folk blues and traditional spirituals. Parr, who strives to sound like he's on Harry Smith's "Anthology of American Folk Music," is an Austin native who now lives in Duluth. His new album,
Stumpjumper
, released in April 2015.
"Folk music has a long, storied past in Minnesota . . . Among the current crop of roots-style pickers, Charlie Parr has sailed above as a performer for over a decade now." –City Pages
Grammy-nominated Justin Roberts is an all-star of the indie family music scene and will definitely be a summer highlight on June 16th at 7 pm. He uses gigantic electric guitars, intricate vocal harmonies, and impossibly catchy melodies to create intelligent and whimsically rocking music for kids and their parents.
"On your feet fun and laugh-out-loud funny." —People
"The Buddy Holly of the kids' world, perhaps with a better voice." —Time Out NY Kids
"Hits all the right magical buttons to charm parents and children alike." —Minneapolis Star-Tribune
"He has a remarkable ability to see through a child's eyes . . . the Judy Blume of kiddie rock" —New York Times
The Ben Marti Jazztet will take over the bandshell on June 23rd at 7 pm. This jazz trio of piano, bass, and tenor saxophone plays jazz standards, pop, and showtunes, in every style from Dixieland to modern jazz.
Alison Scott's soul-pop fusion music will fill Trowbridge Park on June 30th at 7 pm. Scott has become one of the most popular live acts in Minneapolis; she has sold out the Dakota Jazz club over a dozen shows in a row, and is now filling 500 seat theaters. Her newest album, Stone Cold Love, released in May 2015.
"All artists hold a secret: the source of their creativity. Alison Scott hides hers under a controlled demeanor, but onstage comes alive as a soulful musician that shares original and astonishing personal music." –CityPages
"She's got pipes, personality, and an undeniable soulfulness." –Minneapolis Star-Tribune
This project is made possible by a grant provided by the Traverse des Sioux Library System and is funded in part with money from Minnesota's Arts and Cultural Heritage fund.