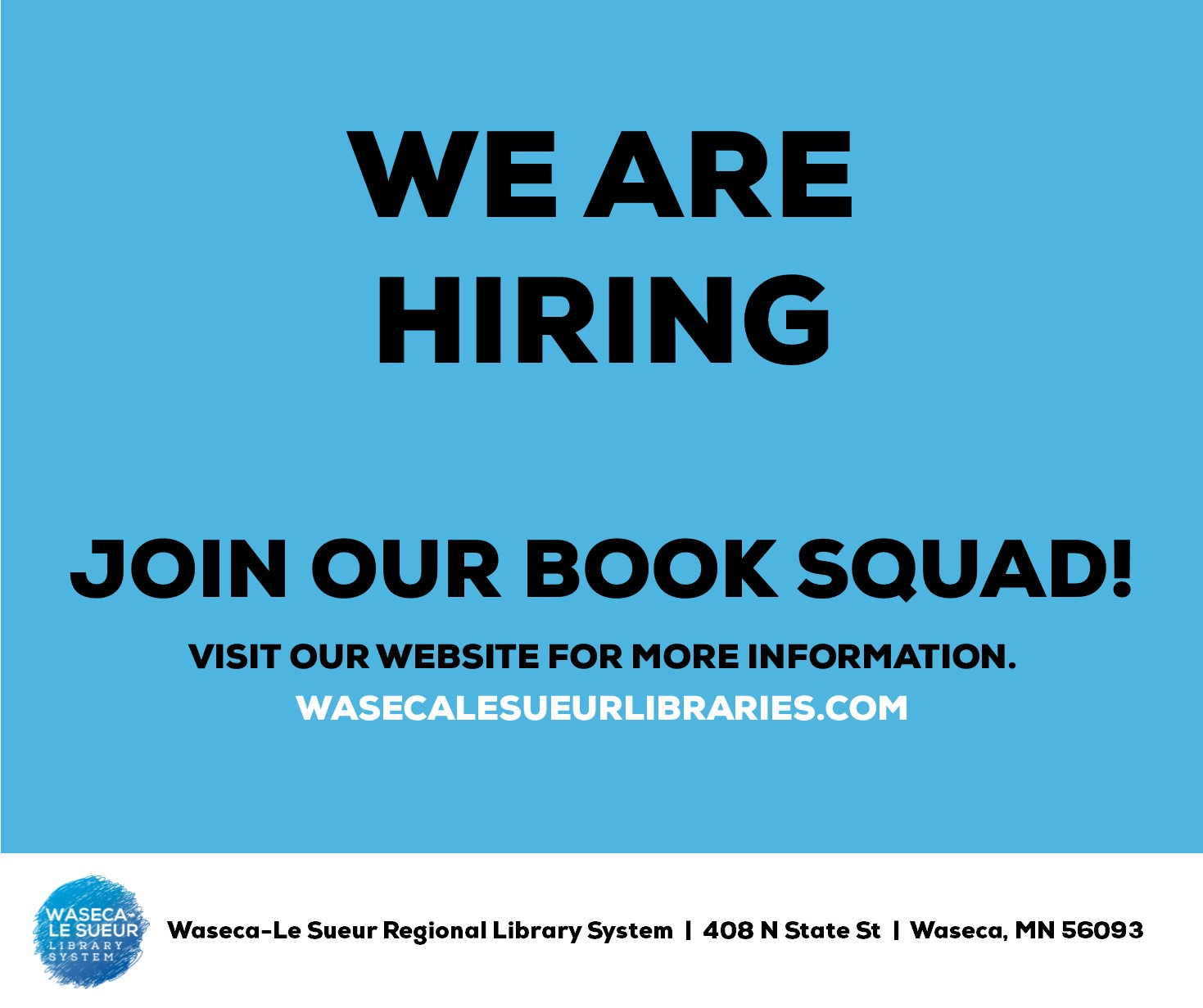 We currently have a job opening in Waseca.
Waseca Public Library Job Opening:
LIBRARY ASSISTANT I: TECHNICAL SERVICES AIDE
JOB DUTIES:
· Distributes courier items accurately.
· Verifies delivery of collection purchases by unpacking materials, crosschecking against order list, prioritizing rush items, and determining whether items need to be sent in for cataloging.
· Prepares items for shelves accurately by barcoding, covering materials in book jackets, making duplicate DVD cases, and stickering audiovisual material.
· Organizes and monitors processing supplies.
· Preps promotional items by folding or cutting materials.
· Aids staff in preparing event materials.
· Shelfreads in order to ensure maintenance of order in the library collection.
· Empties book drop periodically throughout the day.
· Creates excellent customer experiences—making patrons feel welcome, keeping the library clean and tidy, and prepping materials for shelf in a timely manner.
· Performs related duties as assigned or apparent.
QUALIFICATIONS:
· High School Diploma
· Computer literacy with MS office proficiency
· Knowledge of library operations
· Ability to stand, walk, crouch, stoop, squat, twist, climb, push/pull up to 50 pounds, and lift up to 25 pounds.
REQUIRED INTERPERSONAL SKILLS:
· Ability to work independently or as part of a team.
· Communicates effectively.
· Applies time management skills.
· Maintains confidentiality.
· Approaches position with professionalism, initiative, and tact.
· Is flexible and continuously learns, unlearns, and relearns.
Anticipated Hiring Range: $10.92-$13.43 an hour
Paid sick days
Paid holidays
Paid vacation
PERA
Hours/Days: 22 hours per week
MON, WED, FRI: 9-11, 12-2
TUES & THURS: 9-12, 1-3

APPLY TODAY:
Please submit applications in the form of an application and three references by 6/9/23 to:
Stacy Lienemann,
Director at
lienemann@tds.lib.mn.us
507-835-3700 (fax)
or via snail mail at:
Waseca-Le Sueur Regional Library System 
408 N State St 
Waseca, MN 56093